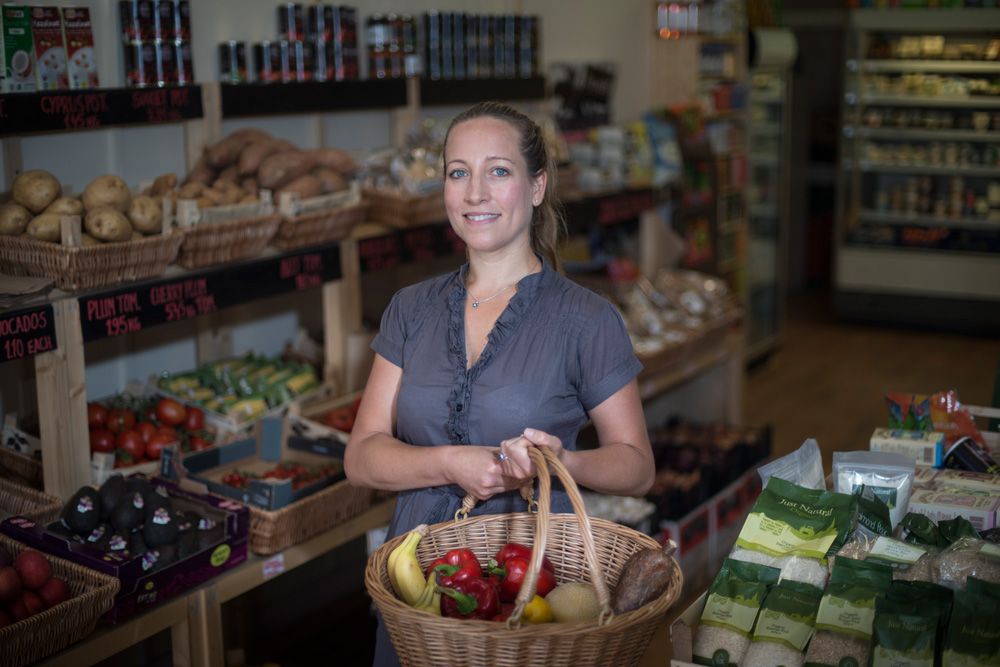 04 Aug

Image of the Month – July 2015 – Saasha from OLIO

This month's image is one of the portraits I have taken of people involved in reducing the amount of edible food needlessly going to waste – a body of work I am entitling Food Waste Warriors, and accompanies a written interview with Saasha – the Co-founder of OLIO, a new mobile app which connects neighbours with each other and with local businesses to exchange their edible surplus food – the desire is to start a food sharing revolution!

It was taken in a small healthfood store called Harvest, near Crouch End, London. The owner, Tolga, has a zero food waste policy, and regularly makes his surplus food available for free on the OLIO app.

Unlike all the other shots in my Food Waste Warrior work, I decided to introduce some artificial light by way of a flash, which I took off-camera.

I added a diffuser to the flash to try and soften the light, and tried to ensure the majority of the light fell on Saasha and the food she was carrying – separating her from the surroundings.

With all the Food Waste Warrior images I have been using a 50mm f1.4 lens at f1.4 to ensure a really shallow depth of field.

The challenge is to ensure the background adds to the image, and makes it more impactful – there's therefore a real need to think about the angles and position of things relative to the subject. And with any body of work involving portraits, there's a real need to strive for consistency in the strength of the images – not an easy task!!