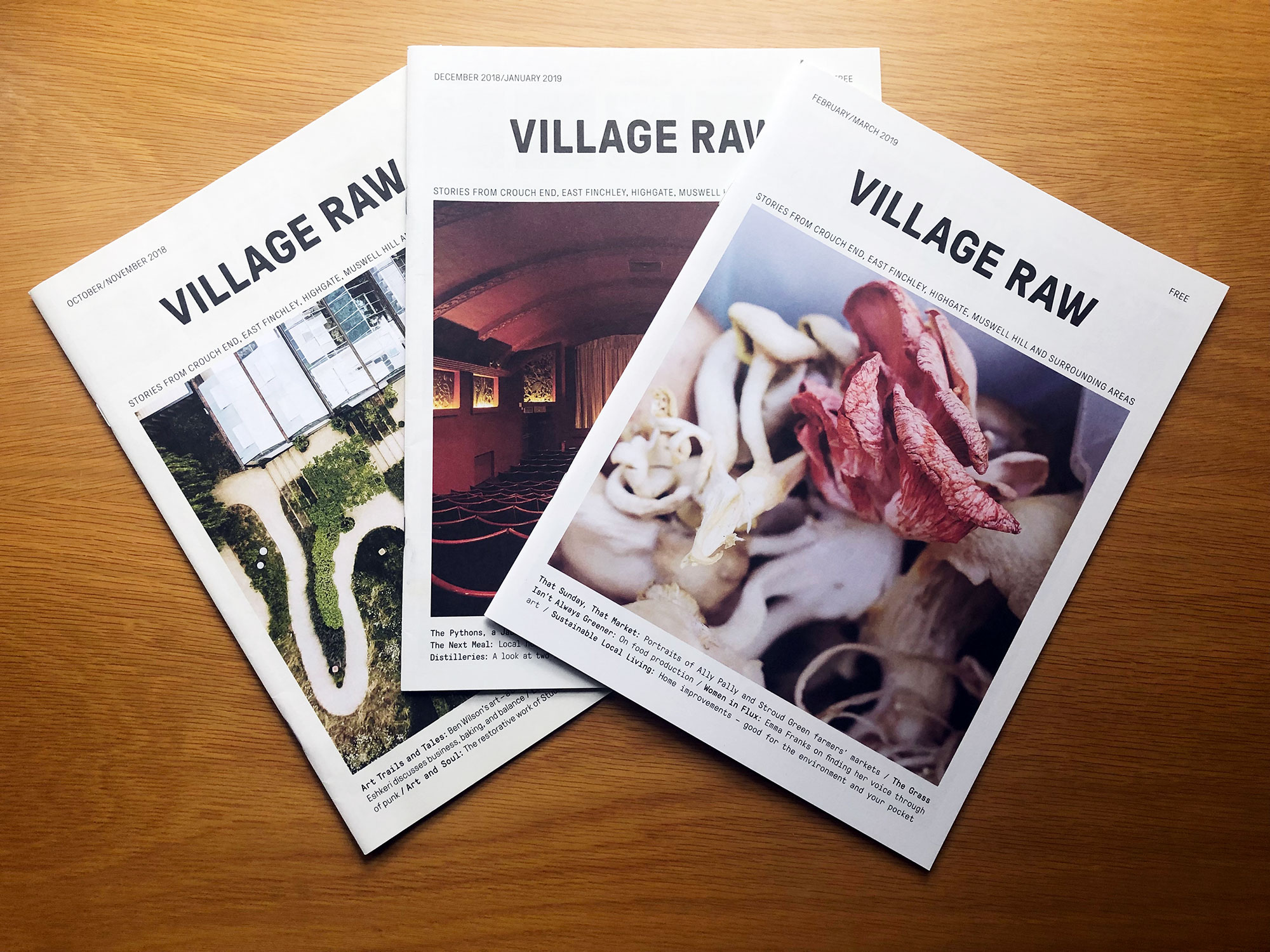 22 Mar

Contributing to North London's Village Raw magazine.

Since landing in London around 12 years ago, I've lived in many different areas – from the borders of Wimbledon Common in the West, all the way to London Fields in the East, and now I'm based in the North, in the borough of Haringey.

In all that time I'd never really engaged with my local community in any meaningful way – instead my friends and connections were scattered across London, and as such I didn't feel connected to any one location, but instead to London itself.

In many ways this is a reflection of my adult life as a whole – in my 20s I was a nomad, living for varying lengths of time in Amtsterdam, France, Cambodia, Egypt, Morocco, Australia and elsewhere. Before all that, during my childhood my parents had a tendency to redecorate or refurbish a house, sell up and move to the next one. This happened 5 times in the first 18 years of my life. So, I've never had or created the opportunity to establish roots.

But all that has changed – well, at least the part about engaging with my local community!

I stumbled across a copy of the Village Raw magazine in a local store, and seeing that it was a new publication, and contributors were being sought after, I reached out to Luciane and Dave, the creators, to see if I they would be interested in me producing some content for them – whether words, images or both.

They were very positive and receptive to the idea, and we talked about potential subject matters I could create a feature around. The obvious choice was food waste – something I've been documenting for 5 years – and so I wrote my first article for them.

Entitled Beyond the Aisles, I explored the need for looking beyond the household and the supermarket stores, and to start paying greater attention to what avoidable food waste is being created at a farm-level – largely a consequence of unfair supermarket practices.

In the following issue, which came out last month, I was to produce a feature on renewable energy production within local households. However, on taking the first steps towards piecing something together – a photo shoot and interview with a local resident, it quickly became obvious that to make an engaging artiucle, I would need to document an installation, and that wasn't going to be possible in the time I had.

The article was put on hold.

With it being Veganuary, I suggested I write something on the rise of veganism instead, and the debate around it being the solution to minimising our impact on the environment, and the impact of food production on issues such as climate change.

While carrying out research for the piece, I had my concerns confirmed – that contemporary veganism, reliant heavily on convenience and processed foods, can be incredibly destructive to the environment and to life. My exploration also exposed me to high-welfare meat production, and restorative and regenerative agricultural practices – alternatives to the indutrial system by which most of our food is produced.

I went on to argue that while industrial meat production is incredibly destructive, and support for it needs to be reduced, so too is the wider industrial production of food.

We therefore must get beyond a debate about meat versus plant-based diets, and instead look at the functioning of the food system as a whole – inform ourselves of the provenance of our food, and the way in which it was produced, and make informed decisions that allow us to truly minimise the impact we have on life and the environment.

The article is entitled Grass Isn't Always Greener, and while it's not yet available online, you can read it in the print magazine, available in various loccations throughout North London.

The magazine is published out of the old Hornsey Town Hall in Crouch End, so you can always find copies there.

If you would like to subscribe to the magazine, you can do so by visiting the Village Raw website.

My next article will be on the issue of biodiversity loss – another critical global issue which requires action to be taken at all levels of society, including the local level.

If you've read one of my articles, and would like to discuss what I've written in more detail, or provide me with feedback, please get in touch at [email protected] – I would be happy to hear from you.