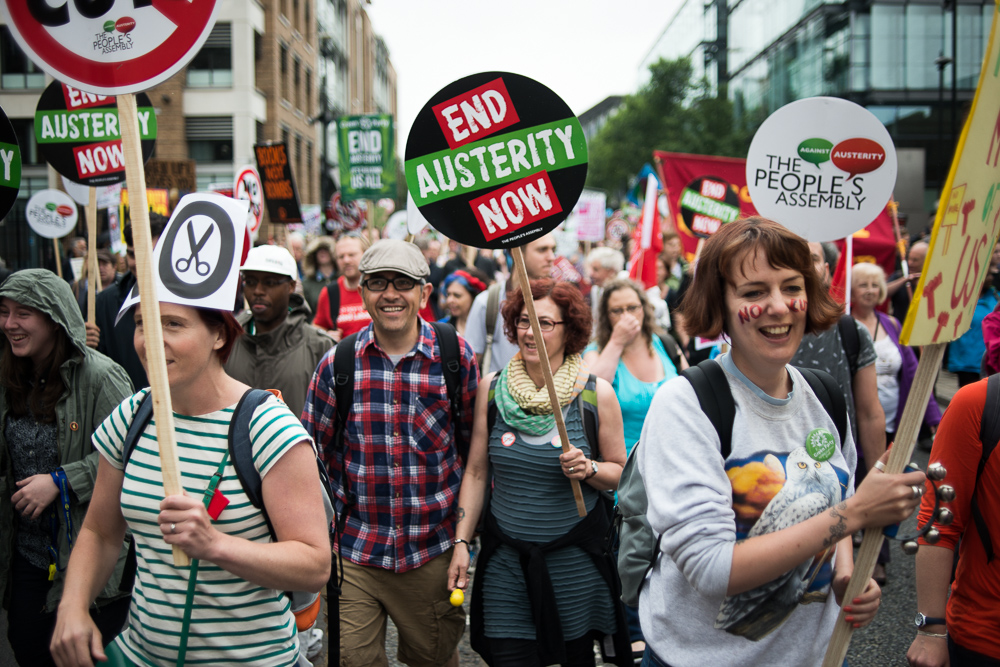 30 Jun

Image of the Month – June 2015 – National Anti-Austerity March

My Image of the Month for June is one I took during the national Anti-Austerity March, which took place on the 20th June.

It was really heartening to see so many people – reportedly 250,000 – from so many places around the UK and representing so many different groups and organisations.

I used a new (secondhand) lens I bought – a 35mm f2 – which I had been after for some time. I've only used it twice, but it is fast becoming my favourite lens! I placed myself behind a traffic sign on an island in the road, which ensured people had to pass by me on both sides.

Quite quickly I decided that rather than try and capture fleeting events and people, I would experiment with stop-motion – to allow me to show in some small way the extent of the crowd of people that had taken to the streets that day.

For the stop-motion I got ahead of the march and found a suitable location on Whitehall. I placed my camera on the seat of my bike, again behind a road sign, and waited. I was there for 30 minutes, and still crowds of people were streaming past me!

I can only hope the movement grows and is able to affect positive change at a policy level…the march was a good start!